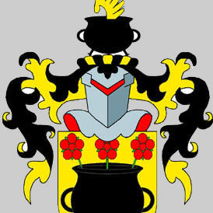 Created By:

Grape-Släktboken

Collecting for:
Grape-Släktboken
"Vart man gapar, ser man grapar"

Grape-Släktboken
Vår släktmatrikel, som pdf-fil på ca 1500 sidor. Den innehåller tusentals ättlingar till Arendt Grape och Clara Johansdotter.

Ge en gåva för varje kopia, till detta välgörande ändamål! Vi släktingar planterar NYA träd på jorden - istället för att trycka en Grape-Släktbok - vi vill inte använda skogen för att tillverka papper. Nya träd på jorden minskar växthuseffekten och motverkar torka, till glädje till kommande grapeättlingar runt om i världen.

Grape-Släktboken (Grape Family Book)
This is the Grape family history of around 1500 pages, written in Swedish. An electronic book, including thousands of offspring to Arendt Grape and Clara Johansdotter.

Make a donation for each copy of the e-book! (Press the button "Ge en gåva"). We´re planting NEW trees on earth - instead of printing this Grape Family Book - since we don´t want to waste our forests for making paper. New trees on the planet will decrease the Greenhouse effect and prevent drought, for the benefit of future Grape offspring around the world.
Donate
Grape-Släktboken donated 300 kr
Anonymous User

donated

100 kr

Kerstin Holmgren

donated

500 kr

Ewa RosenAndersson

donated

500 kr

Aina Kjos

donated

300 kr

Seppo Ylijurva

donated

300 kr

Anonymous User

donated

100 kr

Patrik Backgård

donated

200 kr

Annika Lindqvist

donated

300 kr

Anonymous User

donated

300 kr

Inger. Grape

donated

500 kr

Gunnar Markinhuhta

donated

300 kr

Tack för arbetet med boken. Det ska bli intressant att läsa den

Lasse Tenerz

donated

500 kr

Pontus Kallioniemi

donated

300 kr

Johan Bjurström

donated

500 kr

Stort tack Ingrid för allt arbete. Vilken källa till kunskap, och glädje!

Lars Hardell

donated

300 kr

Helena Gurell

donated

300 kr

Karin Lahti

donated

300 kr

Anonymous User

donated

150 kr

Släkten Grape

donated

300 kr

Paavo Niskakari

donated

300 kr

Jorma Pikkupeura

donated

300 kr

Great job! Will have many interesting moments by reading the book.

Bibbi Ramfjord

donated

500 kr

Tack för jobbet! Ser fram emot att läsa i nya släktboken

Göran Grape

donated

500 kr

Berit Aasa Nyberg

donated

300 kr

Ärofyllt att vara med,dessutom dubbel tillhörighet gm föräldrar